Pressroom
Big Tech: Fabernovel releases its quarterly report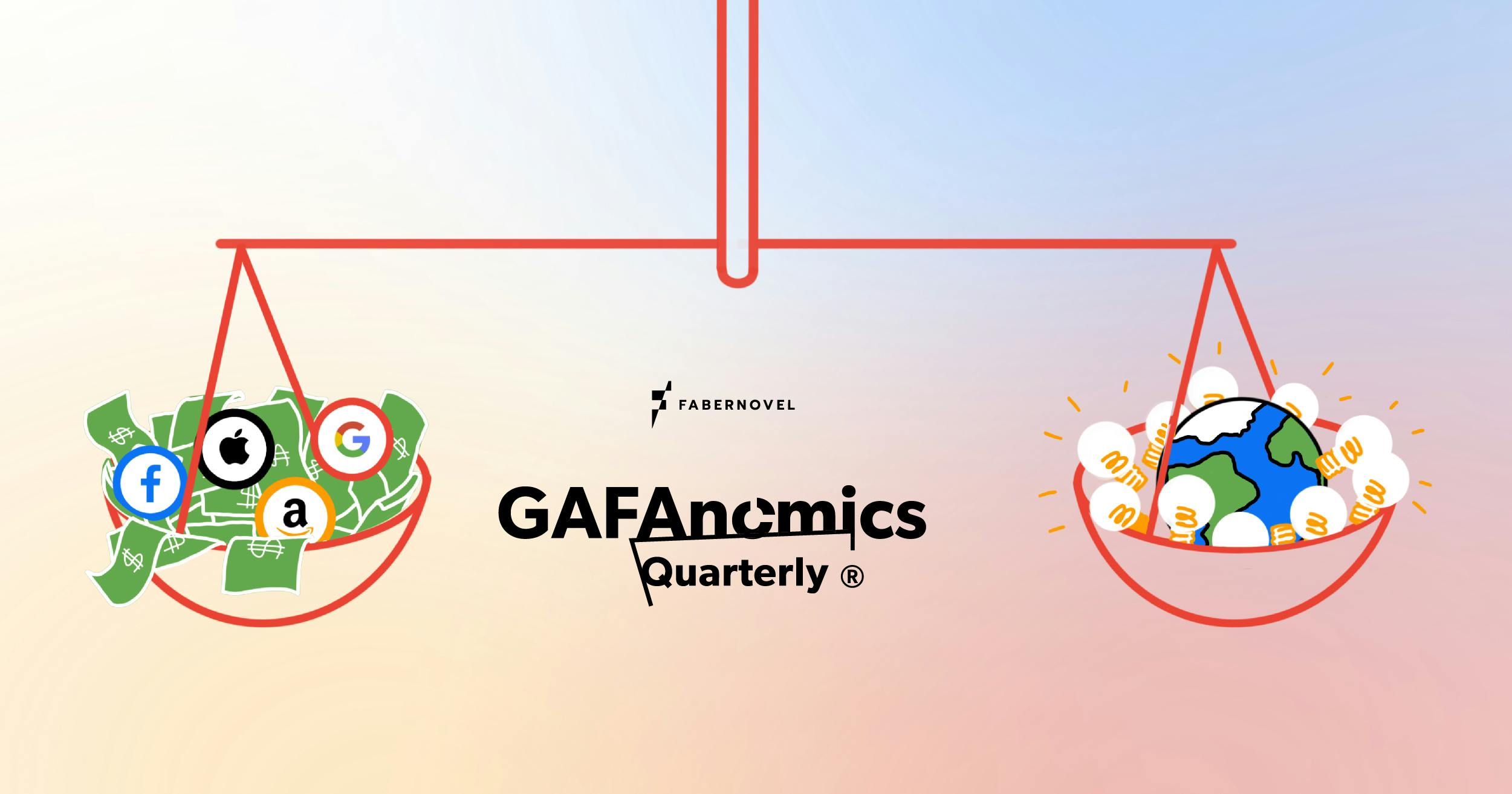 Fabernovel, expert in digital transformation and the creation of digital products and services, publishes its new report, "GAFAnomics Quarterly", which provides a global analysis of the results of current tech giants* for the first quarter of 2021 (February 7, 2021 to May 7, 2021).
As the new economy paves the way for new rules of value creation, this series of Fabernovel reports launched in 2019, which include the financial, strategic, and technological insights by its experts, analysing the drivers of major tech companies as well as their development strategies. 
"The GAFA companies haven taken advantage of the health crisis by boosting their financial results. That said, we are seeing signals which show that these giants are reaching a plateau in their innovation. Their large size makes them less agile and internal innovation is becoming increasingly less common. Furthermore, their upheaval seems to be slowing down, compared to that of new entrants, and that of traditional players undergoing a transformation. We are convinced that we are at a turning point where European companies have a chance of getting back into the race alongside these big tech companies by putting innovation at the heart of their priorities while working on strategic alliances," says Cyril Vart, executive vice president at Fabernovel.
A non-exhaustive summary of GAFAnomics Quarterly (detailed report here):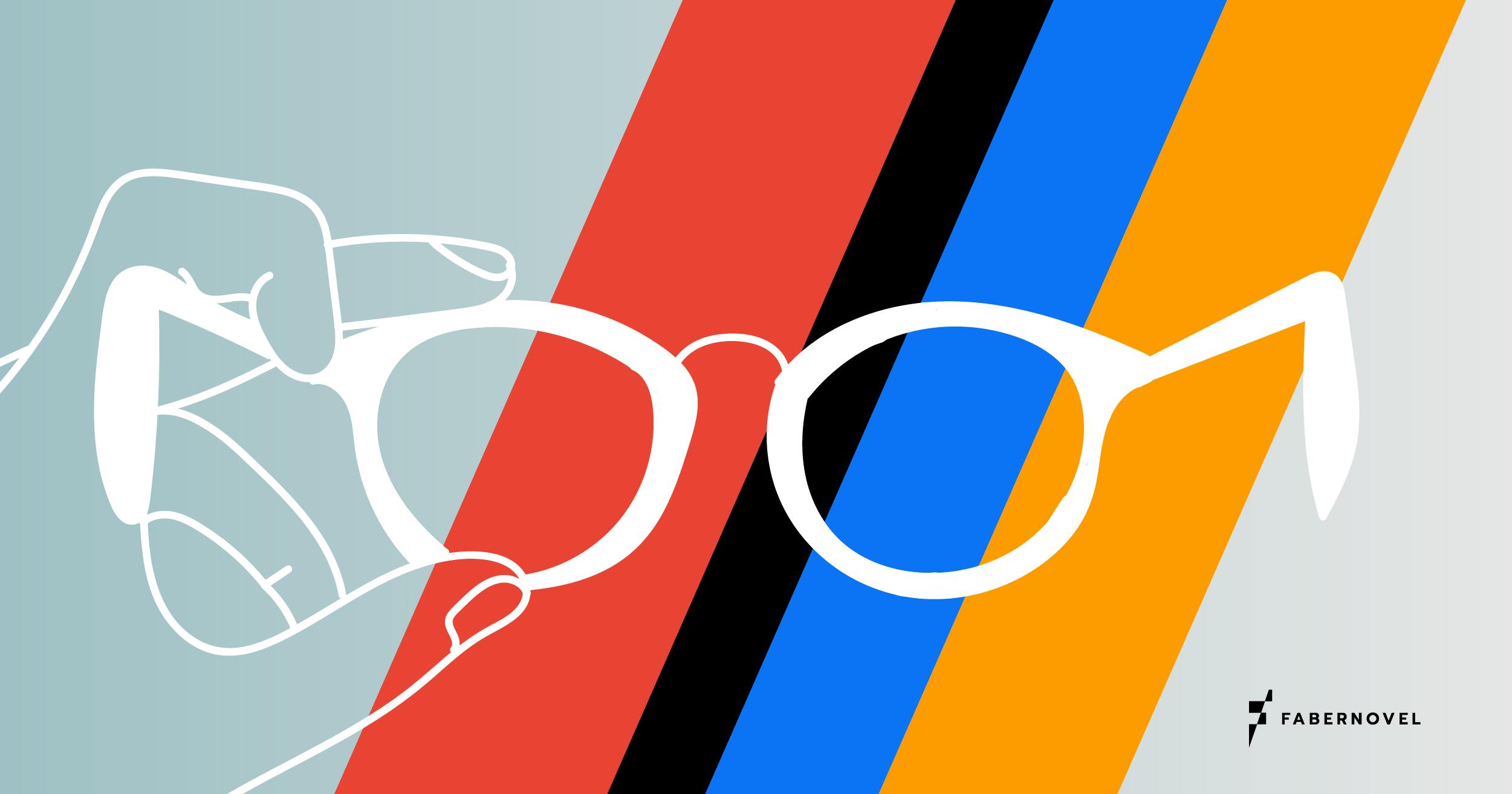 1 - Record financial results contrast with a stock market performance under pressure
Alphabet, Facebook and Microsoft performed very well on the financial markets, generating a market capitalisation of $345 billion this quarter. The same cannot be said for the rest of the Fabernovel Index sample*, which saw their market capitalisation fall by $453 billion.  "This is the first time since "GAFAnomics Quarterly's" inception in 2019 that this Index has seen so many players in the red. This underperformance of the stock market is partly due to the rise in US interest rates (even with Biden trying to reassure the market) and partly due to a correction in stocks, which are being traded on very high valuation multiples and had previously been soaring for several years. One can say that this tech bubble is in the process of deflating itself to avoid bursting entirely," explains Jérémy Taïeb, financial analyst at Fabernovel and co-author of the study.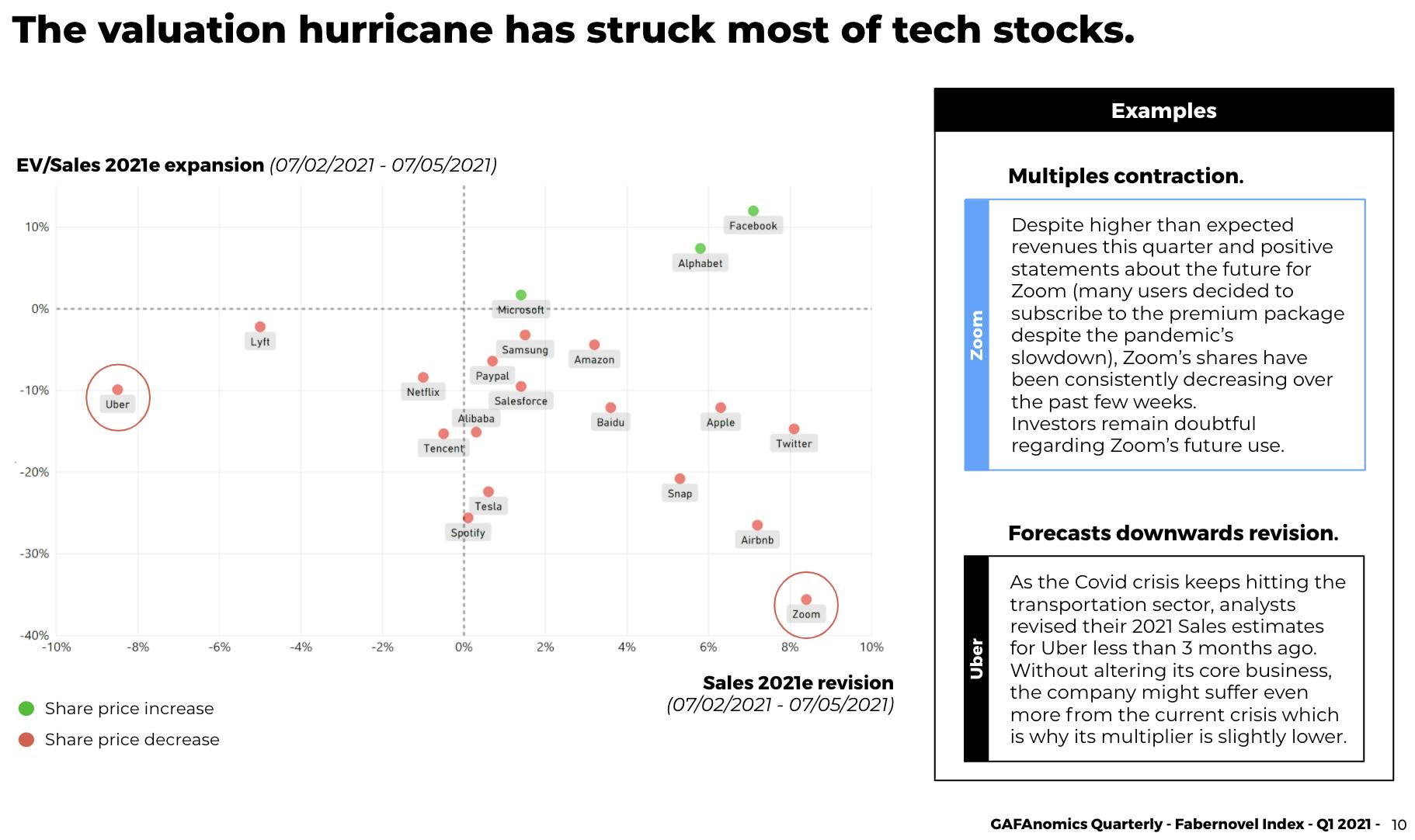 While the performance of the stock market may be mixed, financial performance is at an all-time high. On average, these companies are achieving a 25% growth in sales with the 14 firms that have a positive EBIT being able to report a colossal increase of 74% on average in their operating profit. This is the result of a strong continuous growth policy and commitment to digitalisation over the years. The valuation matrix - composed of the 2021 revenue revisions on one side and the evolution of the valuation multiple on the other - illustrates this quarterly trend perfectly. As a result, the majority of companies have seen their 2021 sales estimates increase, while their multiples have decreased thus resulting in a lower share price. This is called a market correction: good financial results but less stock market interest.
Fabernovel's GAFAnomics Quarterly report also features highlights from this quarter as well as key quotes from executives: Zoom is "transforming from a killer app company to a platform", according to Zoom CEO Eric Yuan during the earnings call to Wall Street analysts, before adding, "Becoming a platform is a great opportunity for us, currently we are just a video conferencing company." This vision perfectly illustrates the new emerging economy that has its values based on the platform model: a kind of one-stop-shop ideal for capturing data and keeping control of the customer relationship. Like Airbnb, which has become one of the main matchmakers in the tourism sector, Zoom seems to be transforming itself into a one-stop-shop for remote events with its OnZoom version, which is currently in public beta testing.
The Top: Google is stronger than ever after the health crisis
The health crisis has shifted advertising budgets to favor digital mediums, which has greatly  benefited players like Google. These advertising revenues have exploded and reached 44.7 billion dollars in the first quarter of 2021, representing an increase of +32.3% compared to the first quarter of the previous year. The group's revenues, 60% of which are based on ads on its search engine, jumped to 32 billion dollars in the first quarter, representing a 30% growth. This also means a 49% growth in advertising revenue from its YouTube platform, which generated $6 billion in the first quarter. TikTok's copycat, Youtube Short should also help the growth of this video segment.  
The Flop: Tencent faces multiple threats
As the Chinese government is busy regulating its giants, Tencent is being hit particularly hard. They are prepared to face a $1.5 billion antitrust penalty for failure to declare acquisitions and other anti-competitive practices. Despite a decent performance in the previous quarter (Tencent has not yet revealed its data for the first quarter of this year) and symbolic fine amounts for the moment, the stock market has interpreted it as the government's desire to regain control over the tech sector. This regulation also threatens the fintech market where Tencent is present with WeChat Pay and where Ants Group, a subsidiary of Alibaba, has already had its IPO rejected by the Chinese administration. Something to keep an eye on! 
The Surprise: Facebook is still attractive 
Although Facebook was dubbed a flop in our last quarter's report as it showed a decrease from investors, we have to admit that this quarter Facebook has regained its appeal as it is coming out of the COVID crisis stronger than before: a 48% growth in turnover with the price increase of 30% on advertising space, 12% in volume, and +94% in net income. The company also reported a 15% increase in monthly active members by reaching the total of 3.45 billion (including those of WhatsApp and Instagram). David Wehner, Facebook's CFO, reaffirmed the company's ambition in the growing social commerce market: Facebook Marketplace currently attracts more than a billion users each month, while Facebook Shops, a feature launched in May 2020 that allows brands to create a "shop", attracts 250 million visitors per month. The only missing block for Facebook to transform into a super-app is a payment service, following the footsteps of WeChat, or more recently Bytedance with TikTok, which Facebook is in the process of relaunching with the Diem cryptocurrency (previously called Libra). 
The focus: Spotify's value proposition is being questioned
While the company announced blossoming results (3 million additional paying subscribers up by 21%, a 16% increase in revenue compared to the previous year's quarter), its monthly active users (MAU), while up a remarkable 24% and meeting the set expectations, did not manage to exceed them. This weak signal, in contrast to the anticipated growing number of subscribers, may point to a potential long-term decline in subscribers or a decline in customer value, immediately causing their share price to fall by 11.2%, offsetting the 10% growth in the week before the results. 
The battle of the platforms is fought over the share of attention that each player manages to capture from their customers: in this case, innovation is the key to keeping or increasing their share of the pie. Spotify has understood this and has begun to transform/diversify from a streaming music platform to a more global vocal platform by tackling podcast formats and live audio. In March, the company acquired Locker Room, a Clubhouse competitor specialising in sports.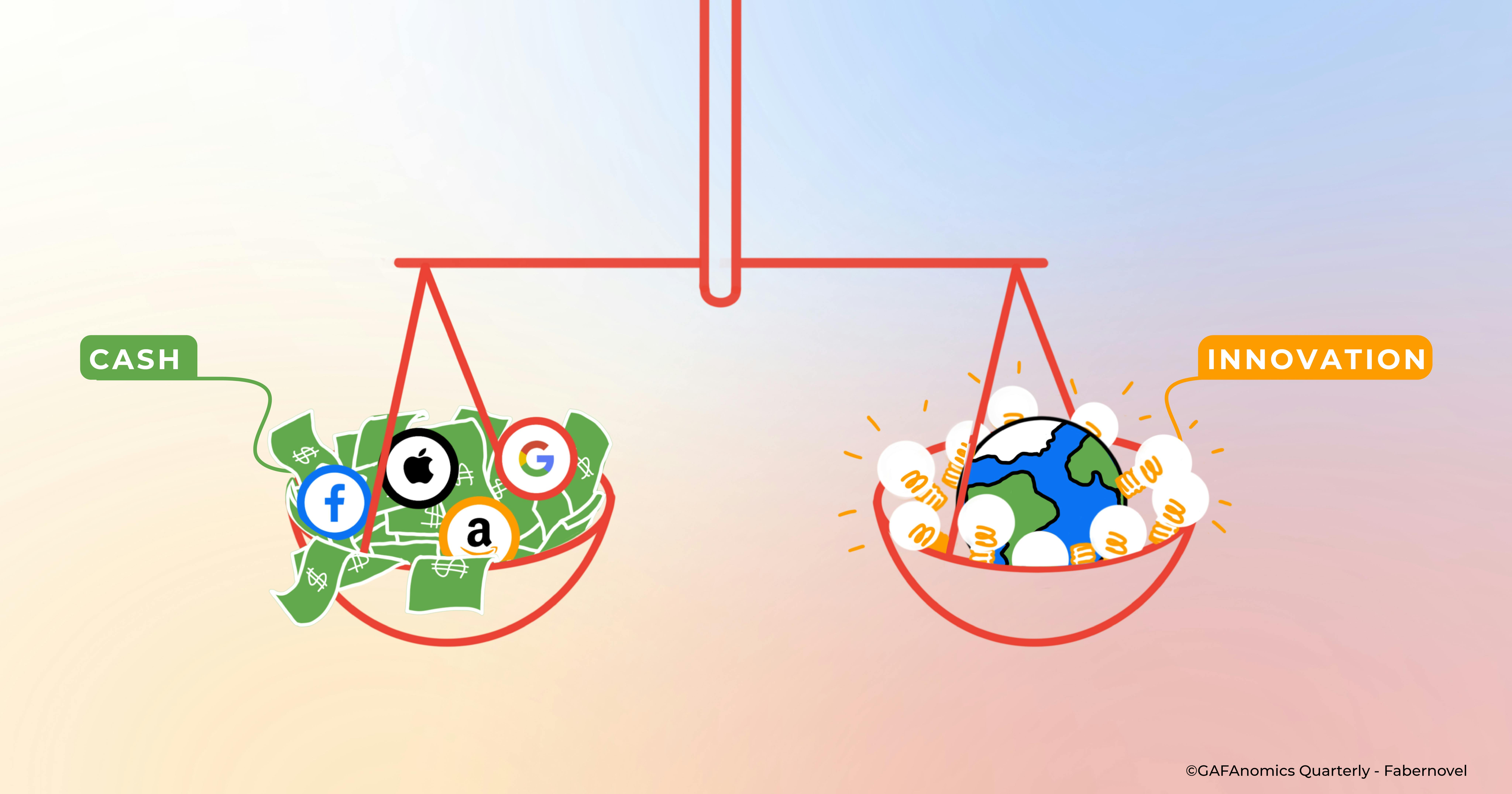 2 - Towards a rebalancing of innovation?
The tech giants have attacked every aspect of our daily lives, grabbing the maximum amount of attention possible. This has generated more cash than ever, allowing them to continue to grow by acquiring innovative companies for the benefit of their own stock. For example, Microsoft bought Nuance in April for $20 billion and Google decided to buy back its own shares at a time when its share price is at an all-time high. 
With the innovators of the GAFA companies seeming to increasingly be nothing more than copycats - examples being Alphabet launching a copy of TikTok with Youtube Short, Facebook continuing to develop its Diem cryptocurrency to approach the model of WeChat or Apple launching competitors to the companies present in its own App Store (which led to various disputes, but that's another story...) - the innovation present in these companies is decreasingly an in-house endeavour.
Innovation on the contrary, is being mainly introduced through numerous mergers and acquisitions. Over the past three years, the Big Four have bought 59 companies, with the average purchase costing them several hundred million dollars. By comparison, an S&P500 company only makes three deals worth more than $10 million over a period of three years.
But new entrants, as well as some of the incumbent players, are exponentially competing with each other in terms of innovation. According to Startup Genome there are currently 600 unicorns around the world, whereas 8 years ago in 2013, there were only 4. In other words, traditional players are relying on tech to turn their business models around. We can see this with Disney, which has succeeded in developing its Disney+ streaming platform, devouring the market share of Netflix. Nike now describes itself as a tech company and recently launched its own innovation house in Paris. Volkswagen is now followed as much by tech analysts as it is by automotive analysts. Walmart has just teamed up with Ribbit Capital to launch their own fintech with the ambition of becoming the new super-app. As a result of this innovation strategy, these traditional companies are becoming more valued than the average company in their sector: Volkswagen +30%, Disney +170%, and Walmart +60%. All this is a way to stand out and show the world that they are capable of playing on equal terms with the GAFAs.
*The sample studied over this quarter 07/02/2021 to 07/05/2021 included: Apple, Alphabet, Alibaba, Amazon, Baidu, Facebook, Lyft, Microsoft, Netflix, Tesla, Paypal, Samsung, Salesforce, Snap, Spotify, Square, Twitter, Tencent, Uber, Zoom
To go further, all our GAFAnomics contents :
GAFAnomics - Quarterly: The First Quarter of  2021: Towards a Rebalancing of Innovation? 
GAFAnomics - Quarterly: The Urgent Need to Rebalance Big Tech